Fanime (part 1)
Here are pictures from Fanime 2008 in San José, California. This is a convention dedicated to anime, manga, and video games.
One of the most fun aspects of the convention is the people dressed up as their favorite anime characters. I will not pretend to know who any of these characters are; the last anime I watched before going to this convention was sometime in 1981, a character named Lupin III. So what you are seeing here are comments from someone who is something of an anime outsider.
Click any picture to see a larger version.
A couple of warriors. The first one wasn't the most impressive one there, but it was one of the first pictures I got when I arrived.
Group photos were popular. Most of the time the group was composed all of characters from one anime. The convention actually had a special area set aside for such "costume play."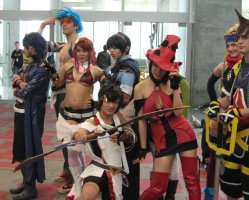 I think the joke on this one is the idea of the cute character being devoured.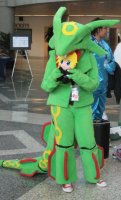 This character is named Domo-kun, and there were quite a few of them running around the convention.